Table of Contents
TeamViewer
Doplněk pro snadnou instalaci a spuštění programu TeamViewer, který slouží pro pro připojení vzáleného uživatele k Vašemu PC.
Autor
Pokud se Vám doplněk líbí, můžete přispět na jeho vývoj! Pokud se nekamarádíte s PayPalem jako já, napište mi email a domluvíme se na jiném způsobu, třeba převodu na účet.
Automatická instalace
Instalaci doplňku spustíte kliknutím na tlačítko vlevo.

Následně budete v prostředí GeoGetu provedeni instalačním procesem. Pro zajištění této funkce je třeba mít na počítači již

nainstalovaný

a

spuštěný program GeoGet

.
Kliknuli jste na tlačítko a nic se nestalo? Máte opravdu
spuštěný GeoGet
? Je to potřeba! Nebo možná máte zastaralý webový prohlížeč. Nevadí, instalaci doplňku můžete jednoduše vyvolat i prostým
zkopírováním
(označit text → klik pravým tlačítkem → kopírovat)
následujícího odkazu do schránky
:
https://www.geoget.cz/doku.php/user:skript:teamviewer?download
Popis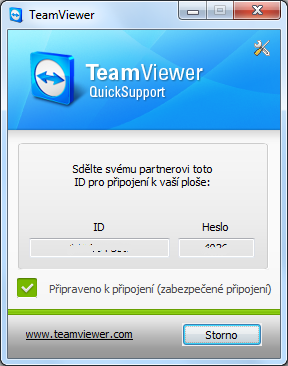 Program TeamViewer umožňuje, jak výrobce uvádí, připojení k jakémukoli počítači nebo serveru na světě v několika sekundách. Umožňuje vzdálené ovládání počítače způsobem, který není odlišný od fyzické přítomnosti přímo u počítače.
To se hodí zejména v případě problémů s GeoGetem a věcí s ním spojených, jejichž řešení není v silách uživatele. V tom případě stačí po domluvě s některým pokročilým uživatelem, pomocí tohoto pluginu spustit program a nahlásit mu Vaše ID a Heslo relace.
Poté se k Vašemu PC protistrana připojí a pokusí se problém vyřešit. Nemusíte se bát, že by k Vašemu PC měl vzdálený uživatel kdykoli přístup, ten je funkční pouze pokud máte spuštěnou klientskou část aplikace, a celou dobu přesně vidíte co protistrana s Vaším PC dělá.
Stažení
Seznam dostupných verzí
Seznam změn
http://www.teamviewer.com/en/download/changelog.aspx
Version 13.0.6447 (2018/03/03)
Fixed

Fixed a bug that caused the local taskbar still to be visible in full screen mode

Fixed a bug that caused connection attempts to take longer than expected

Fixed a bug that caused a black remote screen if the remote computer was running OSX and did have special uncommon screen resolutions

Fixed a bug that caused the connection window to close when trying to move a connection tab to a separate window

Fixed a security issue with access controls - mouse interactions

Solved some other issues which caused crashes

Minor improvements and fixes
user/skript/teamviewer.txt · Last modified: 2018/03/03 18:38 by mikrom
---