Introduction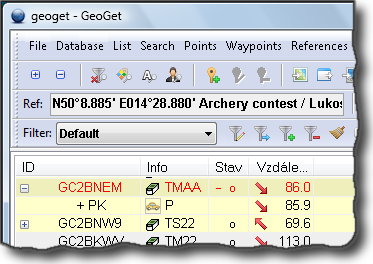 Do you want to have overview about geocaches in the neighbourhood?

Do you want to have easy orientation in list of geocaches?

Do you like to solve Mystery geocaches?

Do you want to plan your geocaching trips easily?

Do you want easier noncommercional replacement of

GSAK

?
We will be happy for any donation by PayPal. Thanks!
You can use international GeoGet GoogleGroup for questions or for the support requests.
Even though Geoget application itself is in English language (You can add any other localization too!), this webpage is in Czech language only. It is because I have no time to maintain the English web version. Sorry!
However, you can use Google Translator on the left side. The results are sometimes funny but will serve the purpose.
News
2010-07-27 Reincarnation of English web skelet.

2007-11-06 Basic English version of this page starting.
en/start.txt · Last modified: 2011/11/15 00:00 (external edit)
---